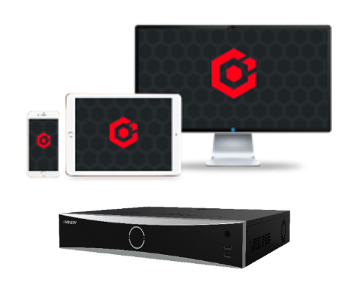 HikCentral Professional
Key Features
 HikCentral Professional is a flexible, scalable, reliable and powerful central surveillance system. It can be delivered after pre-installed on a server.
HikCentral Professional provides central management, information sharing, convenient connection and multi-service cooperation. It is capable of adding devices for management, live view, storage and playback of video files, alarm linkage, access control, time and attendance, facial identification, and so on.
Live View and Playback
Up to 256 channels live view simultaneously
Custom window division configurable
Viewing maps and real-time events during live view and playback
Adding tags during playback and playing tagged video
Transcoded playback, frame- extracting playback, and stream type self-adaptive
Fisheye Dewarping
Visual Tracking
Recording and Storage
Recording schedule for continuous recording, event recording and command recording
Storing videos on encoding devices, Hybrid SANs, cloud storage servers, pStors, or in pStor cluster service
Providing main storage and auxiliary storage
Providing video copy-back
Storing alarm pictures on NVRs, Hybrid SANs, cloud storage servers, pStors, or HikCentral server
Event Management
Camera linkage, alarm pop-up window and multiple linkage actions
Multiple events for video surveillance, access control, resource group, resource maintenance, etc.
Person and Visitor Management
Getting person information from added devices
Provides multiple types of credentials, including card number, face, and fingerprint, for composite authentications
Visitor registration and check-out
Access Control, Elevator Control, and Video Intercom
Setting schedules for free access status and access forbidden status of doors or floors
Supports multiple access modes for both card reader authentication and person authentication
Setting access groups to relate persons, templates, and access points, which defines the access levels of different persons
Supports advanced functions such as multi-factor authentication, anti-passback, and multi-door interlocking
Controlling door or floor status in real-time
Calling indoor station by the Control Client
Calling the platform by door station and indoor station, and answering the call by the Control Client
Time and Attendance
Setting different attendance rules for various scenarios, such as one-shift and man-hour shift
Customizing overtime levels and setting corresponding work hour rate
Supports flexible and quick settings of timetables and shift schedule
Supports multiple types of reports according to different needs and sending reports to specified emails regularly
Sending the original attendance data to a third-party database, thus the client can access third-party T&A and payment system
Supported Database Type   Version  
Microsoft® SQL Server   2008 R2 and above  
PostgreSQL   9.6.2 and above  
MySQL   8.0.11 and above  
Oracle   12.2.0.1 and above  
Specifications
Features Maximum Performance
Devices and Resources
Cameras Centralized Deployment: 3,000①
Distributed Deployment: 10,000②
Central System (RSM): 100,000③
Managed Device IP Addresses
*Including Encoding Devices, Access Control Devices, Elevator Control Devices, Security Control Devices, and Remote Sites Centralized Deployment: 1,024①
Distributed Deployment: 2,048②
Video Intercom Devices 1,024
Alarm Inputs (Including Zones of Security Control Devices) 3,000
Alarm Outputs 3,000
Dock Stations 1,500
Security Radars and Radar PTZ Cameras 30
Alarm Inputs of Security Control Devices 2,048
DS-5600 Series Face Recognition Terminals When Applied with Hikvision Turnstiles 32
Recording Servers 64
Streaming Servers 64
Security Audit Server 8
DeepinMind Server 64
ANPR Cameras 3,000
People Counting Cameras Recommended: 300
Heat Map Cameras Recommended: 70
Thermal Cameras Recommended: 20④
Queue Management Cameras Recommended: 300
Areas 3,000
Cameras per Area 256
Alarm Inputs per Area 256
Alarm Outputs per Area 256
Resource Groups 1,000
Resources in One Resource Group 64
Recording Recording Schedule 10,000
Recording Schedule Template 200
Event & Alarm
Event and Alarm Rules
Centralized Deployment: 3,000
Distributed Deployment: 10,000
Central System (RSM): 10,000
Storage of Events or Alarms without Pictures Centralized Deployment: 100/s
Distributed Deployment: 1000/s
Events or Alarms Sent to Clients
*The clients include Control Clients and Mobile Clients. 120/s
100 Clients/s
Notification Schedule Templates 200
Picture Picture Storage
*Including event/alarm pictures, face pictures, and vehicle pictures. 20/s (Stored in SYS Server)
120/s (Stored in Recording Server)
Reports Regular Report Rules 100
Event or Alarm Rules in One Event/Alarm Report Rule 32
Records in One Sent Report 10,000 or 10 MB
Resources Selected in One Report
*With this limitation, you can generate a neat and clear report via the Control Client and it costs less time. 20
Data Storage Data Retention Period Stored for 3 Years